(William) Davenport Griffen
American, 1894 - 1986
---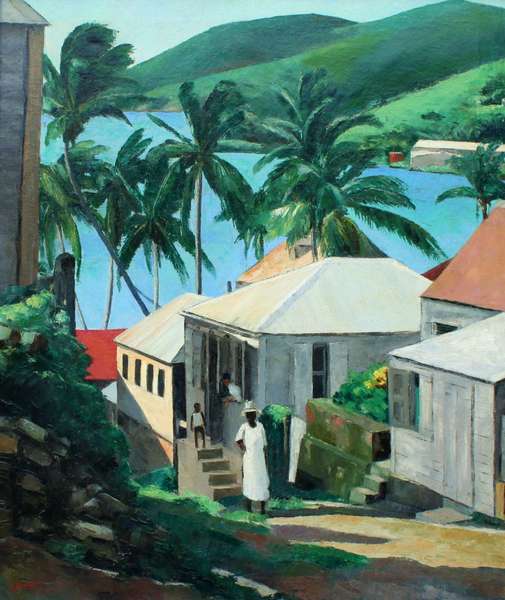 Native Houses and Coconut Trees, 1930
Oil on canvas, in original frame
30 x 24 inches (framed 33 x 27 inches)
Signed and dated D. Griffen '30, lower left; signed and titled on reverse.
#7304
Exhibited:
"Exhibition of Paintings by Davenport Griffen", The Art Institute of Chicago, Chicago, IL, July 23-October 11, 1931, #21.
"Paintings and Drawings of the Virgin Islands (St. Thomas)", Montross Gallery, New York, NY, March 30-April 11, 1931. #3. (Cover illustration of exhibition catalogue).
(William) Davenport Griffen was born in 1894 in Millbrook, NY. He graduated from Iowa State College in Ames, IA in 1918 with a B.S. in Civil Engineering; however, Griffen's true love was painting. In 1919, he enrolled in the Chicago Academy of Fine Arts and subsequently studied at the Art Institute of Chicago from 1923-1928. In 1926, he was awarded the American Travel Scholarship and began painting in Provincetown, MA. In 1928, he was awarded the John Quincy Adams Scholarship and spent six months painting in Paris, France. Griffen also painted in the U.S. Virgin Islands for 11 months between 1930-1931. Griffen had one-man exhibitions of his Virgin Islands paintings at The Art Institute of Chicago and at Montross Galleries in New York, NY in 1931. Griffen exhibited at the Art Institute of Chicago 34 times between 1927 and 1943. He also exhibited at the Salon d'Automne in Paris, The Carnegie Institute in Pittsburgh, PA, The Pennsylvania Academy of Art, Philadelphia, PA, The Whitney Museum of American Art, New York, NY, The Corcoran Biennial, Washington, D.C., and the Century of Progress Exhibitions, Chicago, IL, 1933-1934. Griffen became an instructor of composition and life drawing at the Art Institute of Chicago from 1927-1930. He won numerous prizes for his work including the Augustus Peabody Prize from the Art Institute of Chicago in 1929 and The Logan Medal at the Art Institute of Chicago, 1930.
Griffen completed two WPA post office murals, "The Good News and Bad", Flora, IL, 1937 and "Service to the Farmer", Carmi, IL, 1939. During WWII, Griffen once-again returned to his civil engineering background and served at the Naval air base in Glenview, IL and subsequently was employed by the U.S. Army Corps of Engineers in Joliet, IL where he met his wife, Loretta Simmons, in 1943. Griffen adopted her three children from her first marriage and they had a son together, Peter. After WWII, Griffen relocated to near San Francisco, CA where he continued to paint and exhibit, but also worked as a civil engineer. He died in Rohnert Park, CA in 1986.
Griffen's work is represented in the permanent collections of the Art Institute of Chicago, The Museum of Fine Arts, Boston and the Smithsonian American Art Museum, Washington, D.C. Griffen is one of the artists featured in the 1933 J.Z. Jacobson book, "Art of Today, Chicago".
14-119 Merchandise Mart Plaza
Chicago, Illinois 60654
(312) 644-8855
info@richardnortongallery.com

Gallery Hours
Monday through Friday
9 am to 5 pm
©2023 Richard Norton Gallery LLC