Nils Gunnar Stenqvist
Swedish, 1934 - 2005
---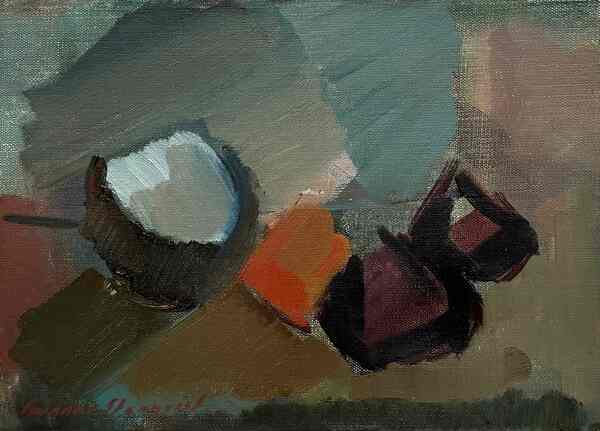 Untitled (Abstraction), 1952
Oil on canvas
9 1/2 x 13 inches (framed 15 x 18 3/4 inches)
Signed Gunnar Stenqvist, lower left; Dated on reverse
#18480
Nils Gunnar Stenqvist was born in 1934 in Stockholm. From 1956-19361, he studied at the Konstfackskolan (National College of Art) in Stockholm and in 1958 at the Royal College of Art in London.
In 1964, Stenqvist became part of the internationally known IX Group (IX-Gruppen), who promoted and developed Swedish graphic arts internationally. They exhibited in Poland, Czechoslovakia, West Germany, Italy, Yugoslavia, Canada, Mexico, France and the United States. IX Group published a book on their work, "Nine Graphic Stories" and had in 1984, had a retrospective exhibition at the National Museum in Stockholm.
His work can be found in the collections of Moderna Museet, Nationalmuseum, Göteborgs Museum, Norrköpings Museum, Umeå Museum, Östersunds Museum. The British Museum in London, Stafford College of Art, the Konstmuseet Lübeck in Germany and the
Polish Art Museum in Krakow.
In 2005, Stenqvist died in Stockholm, Sweden at the age of 71.
14-119 Merchandise Mart Plaza
Chicago, Illinois 60654
(312) 644-8855
info@richardnortongallery.com

Gallery Hours
Monday through Friday
9 am to 5 pm
©2023 Richard Norton Gallery LLC