George Josimovich
American, 1894 - 1986
---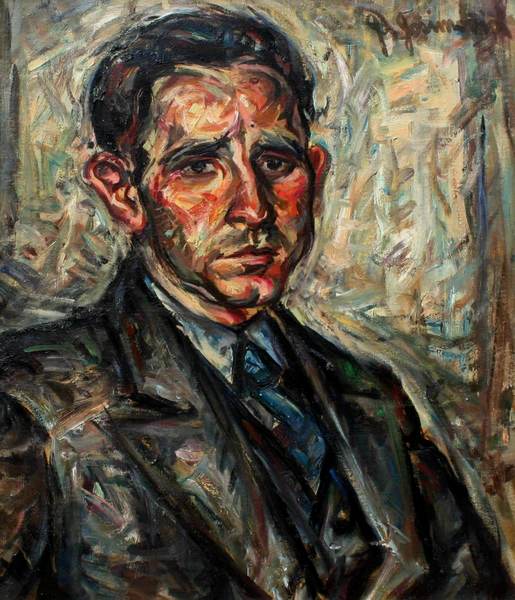 Portrait of J.Z. Jacobson, ca. 1930s
Oil on canvas
26 x 22 inches (framed 30 x 26 inches)
Signed G. Josimovich upper right.
#9642
J.Z. Jacobson is best known for as the author of the book "Art of Today, Chicago 1933". This early, important book highlighted the work of Chicago's avant-garde, Modern painters, including Ivan Albright, Archibald Motley, Julio de Diego, Paul Kelpe, Flora Schofield, William S. Schwartz and George Josimovich, among others. Jacobson was also an art critic and columnist for "The Chicagoan", a magazine that was published in the 1920s and 30s that was a sister publication to the "New Yorker".
George Josimovich was born in Sremska Mitrovica, Yugoslavia in 1894. He emigrated to the U.S. in 1908 and began his studies at the Art Institute of Chicago in 1914. In 1919, Josimovich was greatly influenced by artist and instructor George Bellows.
From 1926-1927, Josimovich maintained a studio in Paris and exhibited at Galerie D'Art Contemporain. Upon Josimovich's return to Chicago in the late 1920s, he became an important force in Chicago Modern painting. He exhibited at the Art Institute of Chicago, The Salons of America and The Carnegie Institute, among others. He died in Newark, NJ in 1986.
14-119 Merchandise Mart Plaza
Chicago, Illinois 60654
(312) 644-8855
info@richardnortongallery.com

Gallery Hours
Monday through Friday
9 am to 5 pm
©2022 Richard Norton Gallery LLC