Emil Armin
American, 1883 - 1972
---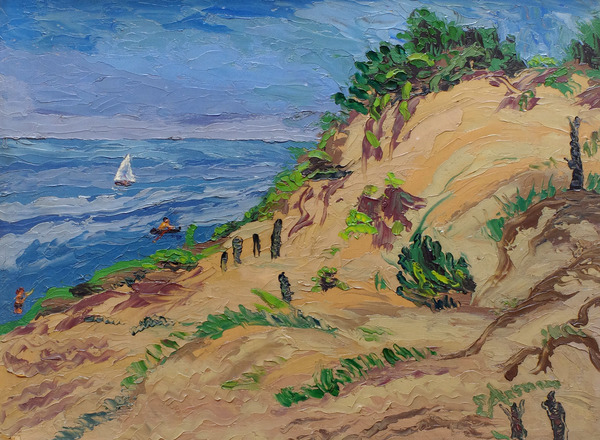 Sunburnt Dunes, ca. 1942
Oil on board
18 x 24 inches (framed 20 1/2 x 26 1/2 inches)
Signed E. Armin lower right; signed and titled on reverse.
#7192
Exhibited:
The South Side Art Association, Mandel Brothers Department Store, Chicago, IL, 1942.
"Emil Armin: Paintings in Oil, Watercolors and Woodcuts", The Renaissance Society, Chicago, IL, March 19-April 15, 1944.
Emil Armin was born in Radautz, Austria in 1883. By the age of 10, Armin was orphaned and was raised by his older siblings. He supported himself by working in restaurants and drew in his spare time. In 1905, at the age of 21, Armin immigrated to Chicago. He began studying at the Art Institute of Chicago in 1907, but financial difficulties forced him to start and stop a number of times, finally graduating in 1920. He studied with George Bellows and Randall Davey. Armin was an integral part of Chicago's 57th Street Art Colony and exhibited in both the more avant-garde Chicago No-Jury Society Shows, as well as the more formal and conventional Chicago Society of Artists Exhibitions, the Chicago Renaissance Society and Art Institute of Chicago (1922-1949) exhibitions. He taught at Hull House and the Jewish People's Institute. During the depression years, he was part of the easel section of the WPA. A critic for the Chicago Evening Post called Armin, "…perhaps the most finely sensitized artist in Chicago…with the soul of a peasant and the mind of a philosopher." He is best known for his paintings of the Indiana Dunes, New Mexico, Maine and later in life Mexico. His most popular subjects include both dunes scenes and those of city life. At the age of 88, he died in Chicago in 1971. In 1980, the Illinois State Museum honored him with a special exhibition that included 72 of his works.
14-119 Merchandise Mart Plaza
Chicago, Illinois 60654
(312) 644-8855
info@richardnortongallery.com

Gallery Hours
Monday through Friday
9 am to 5 pm
©2023 Richard Norton Gallery LLC