Carl Hoeckner
American, 1883 - 1972
---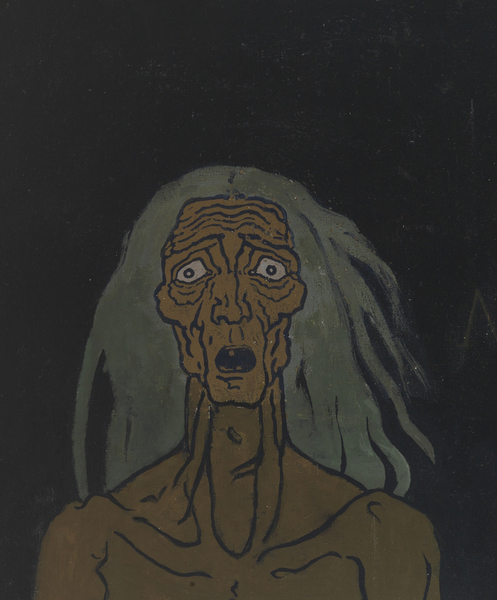 Anno Christi MCMXIIX (Fragment), 1918
Oil on board
13 1/4 x 11 inches
Provenance: Estate of the artist.
#7339
Exhibited:
"The Twenty-fifth Annual Exhibition by Artists of Chicago and Vicinity", The Art Institute of Chicago, Chicago, IL, January 25-February 28, 1921, #144, illus.
In 1883, Carl Hoeckner was born into a long family line of engravers, etchers and lithographers in Munich, Germany. Hoecker studied at art academies in Hamburg, Cologne, Munich, Berlin and Brussels. He arrived in the United States in 1910 and worked in Marshall Field's Department store's advertising department throughout WWI. During this time, Hoecker pursued fine art and became deeply political. His paintings express his feelings at the horrors of WWI and the rise of Fascism. His work is best described as a synthesis between Social-Realism and Expressionism. He aligned himself with the radical and avant-garde artists of the day, founding a group called the Cor Ardens (Ardent Hearts). In 1929, he became an instructor at the Art Institute of Chicago where he taught industrial design. He also served as the Director of the Graphics Division of the Illinois Art Project of the Work's Progress Administration. He exhibited at the Art Institute of Chicago, Chicago, IL, the Society of Independent Artists, New York, NY, the Pennsylvania Academy, Philadelphia, PA and the National Academy of Design, New York, NY, among others. He died in Hayward, CA in 1972.
14-119 Merchandise Mart Plaza
Chicago, Illinois 60654
(312) 644-8855
info@richardnortongallery.com

Gallery Hours
Monday through Friday
9 am to 5 pm
©2023 Richard Norton Gallery LLC