Alexander Corazzo
American, 1908 - 1971
---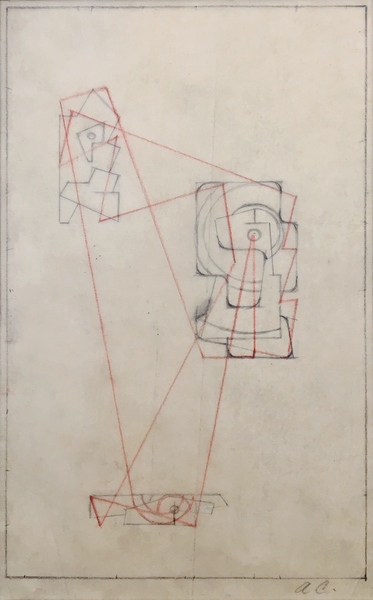 Untitled, ca. 1940
Colored pencil and graphite on paper
9 1/2 x 6 inches (framed 15 1/2 x 12 1/2 inches)
Signed with initials A.C., lower right.
#6926
Born in Lyon, France in 1908, Alexander Corazzo originally studied music and civil engineering. In 1927, after his arrival in the United States, he studied art at the St. Paul School of Art in St, Paul, MN. In 1935, he and colleague R. Leroy Turner became one of only a few Americans to asked to join the important Abstraction Creation Group in Europe. In 1937, he attended the New Bauhaus in Chicago, but left after one year due to a falling-out with founder Laszlo Moholy-Nagy.
He became a member of the American Abstract Artist's Group and exhibited nationally during the 1930s and 40s at such important venues as the Metropolitan Museum of Art, New York, NY, the Whitney Museum of Art, New York, NY, the National Gallery of Art, Washington, DC and the Art Institute of Chicago, among others.
In 1946, he was awarded an architecture Degree from the Illinois Institute of Technology, where he studied with Mies van der Rohe.
At the age of 63, Corazzo died in Valparaiso, IN in 1971. The University of Michigan Museum of Art held a retrospective of Corazzo's works in 1976. His friend composer John Cage contributed a poem for the show catalogue.
14-119 Merchandise Mart Plaza
Chicago, Illinois 60654
(312) 644-8855
info@richardnortongallery.com

Gallery Hours
Monday through Friday
9 am to 5 pm
©2023 Richard Norton Gallery LLC